1.Scientific Research Facilities
The Shanghai Astronomical Observatory is in charge of a first-rate international observing base and a data analysis/research center, which is supported by a number of modern space and astronomy observing techniques and facilities (namely a VLBI observation station with 25m and 65m radio telescopes, a VLBI data processing center, a 1.56m optical telescope, a 60cm satellite laser-ranging (SLR) telescope and a GPS system). It is one of the seven observatories in the world that owns all of these technologies. The observatory is also the organization responsible for the Chinese VLBI Network and Chinese Laser-Ranging Network.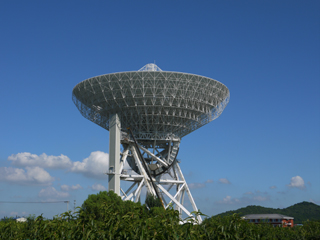 Tianma Telescope and Observation Station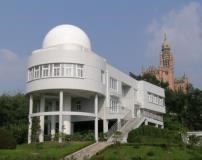 The 60cm Laser-Ranging Station
The 25m Radio Telescope Observing Station

Information and Computing Platform
2.Key Laboratories
SHAO has five provincial-level state key laboratories, namely The CAS Key Lab in Galaxies & Cosmology, The CAS Key Lab of Planetary Science, The CAS Key Lab of Radio Astronomy (branch), The CAS Key Lab of Space Target & Debris Observation (branch), and The Shanghai Key Lab of Space Navigation and Positioning Techniques.
The CAS Key Lab in Galaxies & Cosmology was founded in December 2012 with the approval of the Chinese Academy of Sciences. Its headquarters and branch were set up at SHAO and the Chinese University of Science & Technologies, respectively. The research direction of the laboratory is large-scale cosmological structure, formation and evolution of galaxies, physical mechanism of AGN and black hole accretion, co-evolution of galaxies and supermassive black holes. The laboratory strives to become a platform for galaxies and cosmology research with international leading resources in high-precision numerical simulation and analysis based on massive survey data. The laboratory provides science support for major national projects, particularly LAMOST (Large Sky Area Multi-Object Fiber Spectroscopy Telescope) and HXMT (Hard X-ray Modulation Telescope). Through nurturing high-quality reserve talents, the laboratory establishes a research team in galaxy and cosmology with global competiveness. As a nation-wide open research platform in astrophysics, the CAS Key Lab in Galaxies & Cosmology amasses the country's major research resources in galaxy & cosmology study. It has a staff of 59 members in scientific research and management, including 29 research members with senior professional titles.
The CAS Key Lab of Planetary Science was founded in April 2013 with the approval of the Chinese Academy of Sciences. Its lab director is Researcher LIAO Xinhau, and its deputy directors are Researcher JI Jianghui of the CAS Purple Mountain Astronomical Observatory and Researcher HUANG Chengli of SHAO, with Researcher XU Weibiao being the director of its academic committee. The research directions of the laboratory include measuring and determining the orbits of planetary probes, ground based and deep-space explorations of minor planets, internal structures and dynamics of planets, chemistry of planetary meteorites, and formation and evolution of planetary systems. The laboratory strives to become an important special platform for international leading-edge basic research of planetary science, undertaking the major tasks of conducting deep-space exploration and cultivating high-caliber research talents. The laboratory has a fixed-size staff of 31 workers, including 12 researchers.
The Shanghai Key Laboratory of Space Navigation and Positioning Techniques was founded in 2006 with the approval of The Shanghai Municipal Science and Technology Commission. Taking advantage of SHAO's existing astronomical observation equipment, related techniques and solid foundation in research, the laboratory provides support for key research and applications of precise orbit determination for space vehicles. The laboratory is geared to the research resources in related fields across China, tightly coupling its operation with the tasks of lunar and deep-space VLBI orbit determination undertaken by SHAO. The laboratory also lends support to the chores of observation and research in related VLBI fields exploiting the Chinese VLBI Network (CVN). The laboratory currently has 14 researchers and 7 associate researchers.
The CAS Key Laboratory of Radio Astronomy was founded in 1990 jointly by the CAS Purple Mountain Astronomical Observatory, National Astronomical Observatory, Shanghai Astronomical Observatory and Xinjiang Astronomical Observatory. With the operational objective of "Basing on Domestic Needs and Gearing to the World", it strives to set up an environment for world-class scientific research, technology innovation, cultivation of talents and academic exchange. At present, the VLBI branch of the key laboratory at SHAO has a fixed staff of 29 workers, including one CAS Member, four having been selected into the One Hundred Talent Project and two being recipients of the National Science Fund for Distinguished Young Scholars. The laboratory undertakes the development and open operation of the country's large astronomical radio telescopes, scientific research in observation, application service geared to the national need, and development of critical technologies. The laboratory lends powerful support to Chinese astronomers, provides a solid basis for developing radio astronomy in China, and offers an excellent platform for bringing the level of China's radio astronomy in line with international norms. SHAO focuses on such tasks as developing the 65m Tianma radio telescope, astronomical VLBI observation and VLBI orbit determination for the lunar project.
The CAS Key Lab of Space Target & Debris Observation was founded in December 2008 with approval of the Chinese Academy of Sciences, relying on the CAS Purple Mountain Astronomical Observatory and Shanghai Astronomical Observatory as its branches. The laboratory is geared to major national need and the frontiers of scientific development. Its operation is based on astrometry and celestial mechanics, astronomical techniques and methods, as well as other scientific disciplines. Based on the detection and recognition of space targets as its core, the laboratory is fully engaged in developing theories of space target dynamics, methods for detection and recognition, methods and software for precise orbit determination and prediction, optical observation techniques and equipment, maintenance and development of the facilities, etc. The laboratory actively explores new concepts and new techniques for detecting space targets, as well as new methods for recognizing space targets. In the mean time, theoretical research on detecting and cataloging space targets (or debris) is driving the development of astrometry, celestial mechanics and orbital mechanics.